Digital Physical Therapy and Rehabilitation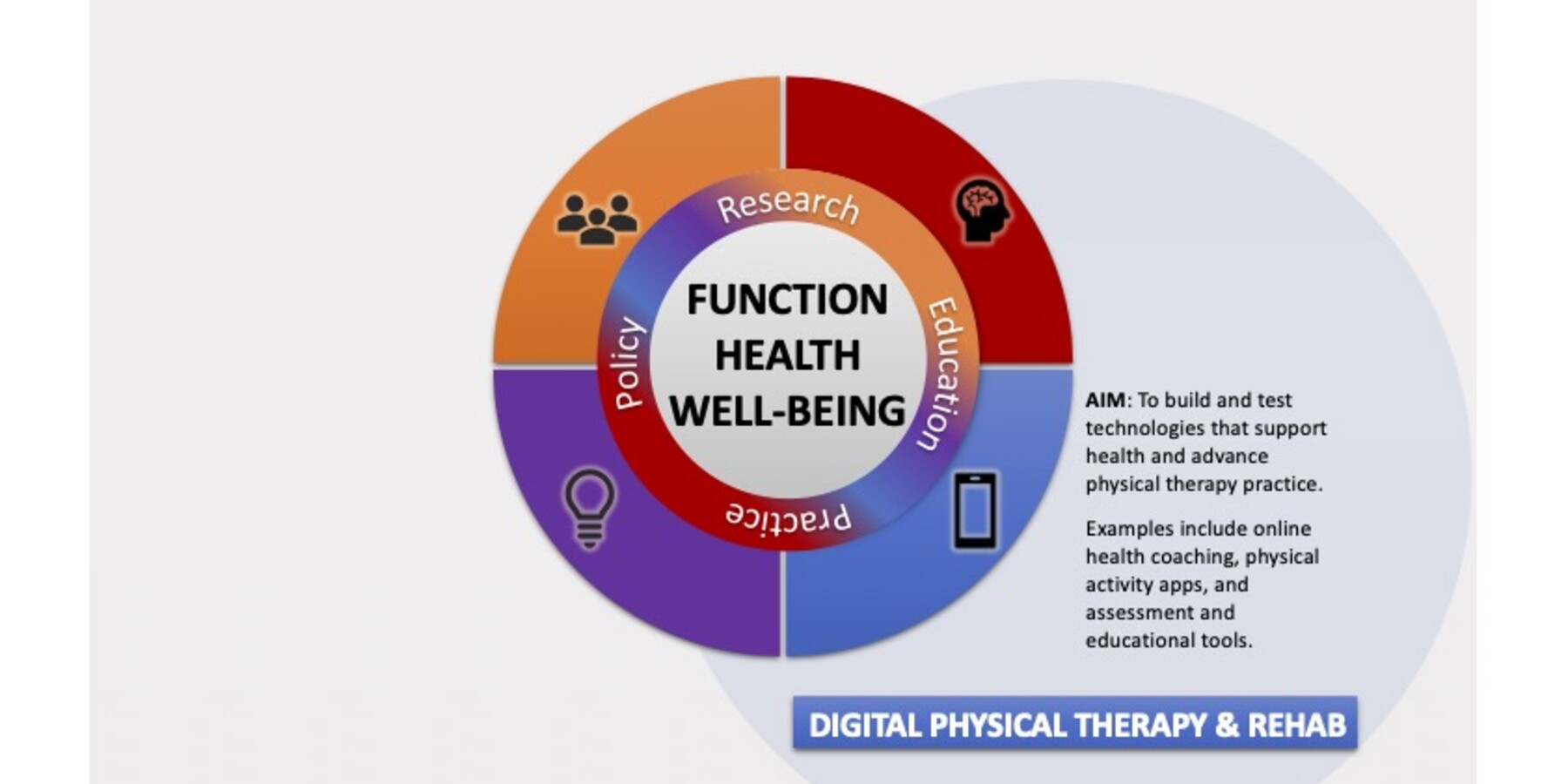 The aim of this platform is to establish and translate evidence involving innovative virtual rehabilitation approaches for advancing education and implementation of rehabilitation assessment and interventions for people living with chronic conditions. This aim is addressed by:
developing mobile health solutions and technologies to advance implementation of recommended rehabilitation assessments and treatments, patient education, and healthy living
developing effective approaches for the virtual delivery of rehabilitation, community-based exercise, and physical activity interventions
validating electronically administered patient-reported outcome measures (PROMs) and virtually administered performance-based rehabilitation assessment tools
developing and evaluating virtually delivered physical therapy education
Examples include online health coaching, physical activity apps, and assessment and educational tools.
This platform encompasses emerging advances in virtual approaches to clinical practice, education, and research. The COVID-19 pandemic has led faculty to address the urgent need for innovative approaches to virtual physical therapy education, assessment, and treatment, and community-based exercise programming in Canada. This platform includes using implementation science approaches to assess the accessibility, acceptability, effect, fidelity, adoption, feasibility, and sustainability of virtually-delivered interventions.  Findings are of benefit to physical therapy learners and practitioners, and people with HIV, spinal cord injury, stroke, and other chronic health conditions.
Programs of Research and Faculty
2022 Peer-Reviewed Publications: Digital PT & Rehab
Budhwani S, Fujioka J, Thomas-Jacques T, De Vera K, Challa P, De Silva R, Fuller K, Shahid S, Hogeveen S,  Chandra S, Bhatia RS, Seto E, Shaw J. Challenges and Strategies for Promoting Health Equity in Virtual Care: Findings and Policy Directions from a Scoping Review of Reviews. Journal of the American Medical Informatics Association, 2022, 29(5): 990-999.
Cheung L, Musselman KE, Kaiser A, Jervis Rademeyer H, Walden K, Marshall S, Gauthier C. Activity-based therapy in the community for individuals living with spinal cord injury or disease: qualitative interviews with clinicians. Disabil Rehabil. 2021 Jun 2:1-10. doi: 10.1080/09638288.2021.1923072. Epub ahead of print.
Chishtie J, Bielska IA, Barrera A, Marchand JS, Imran M, Tirmizi SFA, Turcotte LA, Munce S, Shepherd J, Senthinathan A, Cepoiu-Martin M, Irvine M,Babineau J, Abudiab S, Bjelica M, Collins C, Craven BC, Guilcher S, Jeji T,Naraei P, Jaglal S. Interactive Visualization Applications in Population Health and Health Services Research: Systematic Scoping Review. J Med Internet Res.2022 Feb 18;24(2):e27534. doi: 10.2196/27534.
Craven BC, Musselman K. Spinal cord injury care in the pandemic era – the Canadian spinal cord injury rehabilitation association responds with innovation. Journal of Spinal Cord Medicine. 2021; 44(sup1): S3-S4.
Desveaux L, Budhwani S, Stamenova V, Bhattacharyya O, Shaw J, Bhatia RS. Closing the virtual gap in healthcare: A series of case studies illustrating the impact of embedding evaluation alongside system initiatives. Journal of Medical Internet Research, 2021, 23(9): e25797.
Donia J, Shaw J. Co-design and Ethical Artificial Intelligence for Health: An Agenda for Critical Research and Practice. Big Data & Society, 2021, 8(2): 1-17.
Gordon D, Hensel J, Bouck Z, Desveaux L, Soobiah C, Saragosa M, Jeffs L, Bhatia RS, Shaw J. Developing an Explanatory Theoretical Model for Engagement with a Web-based Mental Health Platform: Results of a Mixed Methods Study. BMC Psychiatry, 2021, 21: 417.
Heneghan NR, Jagodzinska J, Tyros I, Johnson W, Nazareth M, Yeung E, Sadi J, Gillis H, Rushton A.  Telehealth e-mentoring in postgraduate musculoskeletal physiotherapy education: A mixed methods case study.  Musculoskeletal Science and Practice.  2021;56.  https://doi.org/10.1016/j.msksp .2021.102448
Hossain SN, Jaglal SB, Shepherd J, Perrier L, Tomasone JR, Sweet SN, Luong D, Allin S, Nelson MLA, Guilcher SJT, Munce SEP. Web-Based Peer Support Interventions for Adults Living With Chronic Conditions: Scoping Review. JMIR Rehabil Assist Technol. 2021 May 25;8(2):e14321. doi: 10.2196/14321.
Inj Rehabil. 2020;26(4):232-242. doi: 10.46292/sci20-00016. Epub 2021 Jan 20.
Jovanovic LI, Jervis Rademeyer H, Pakosh M, Musselman KE, Popovic MR, Marquez-Chin C. Scoping review on brain-computer interface-controlled electrical stimulation interventions for upper limb rehabilitation in adults: a look at participants, interventions and technology. Physiotherapy Canada. https://doi.org/10.3138/ptc-2021-0074
Noonan VK, Jaglal SB, Humphreys S, Cronin S, Waheed Z, Fallah N, Kwon BK, Dvorak MF. Linking Spinal Cord Injury Data Sets to Describe the Patient Journey Following Injury: A Protocol. Top Spinal Cord
Rowe M, Nicholls D, Shaw J. How to replace a physiotherapist: artificial intelligence and the redistribution of expertise. Physiotherapy Theory & Practice, online ahead of print, DOI: 10.1080/09593985.2021.1934924, 2021.
Shaw J, Donia J. The Sociotechnical Ethics of Digital Health: A Critique and Extension of Approaches from Bioethics. Frontiers in Digital Health, 2021, 3: 725088.
Shaw J. Emerging paradigms for ethical review of research using artificial intelligence. American Journal of Bioethics, 2022, 22(5): 42-44.
Shepherd J, Tu K, Young J, Chishtie J, Craven BC, Moineddin R, Jaglal S. Identifying cases of spinal cord injury or disease in a primary care electronic medical record database. J Spinal Cord Med. 2021;44(sup1):S28-S39. doi:10.1080/10790268.2021.1971357.
Thomas-Jaques T, Jamieson T, Shaw J. Telephone, Video, Equity and Access in Virtual Care. Nature Digital Medicine, 2021, 4: 159.