Social, Political, Ethical & Cultural Dimensions of Health and Disability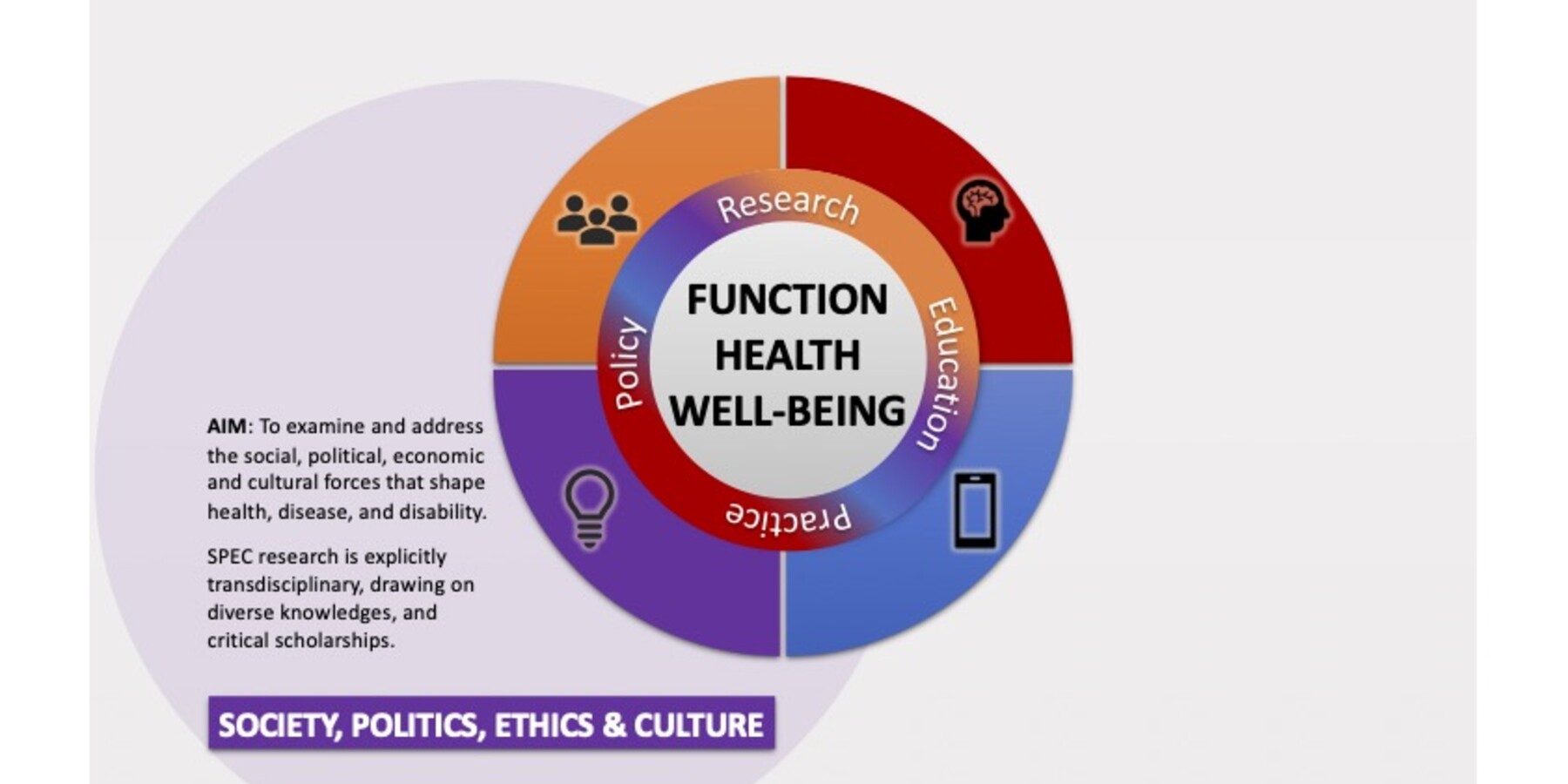 The aim of this platform is to investigate and address the social, political, ethical, and cultural forces that shape how health, disease, and disability are understood and addressed in healthcare and rehabilitation and in various communities and societies. This aim is addressed through critical social science approaches that investigate:
how health, disease, and disability are conceptualized and addressed in health care, communities and societies and the effects on disabled people and other recipients of care
how systems of oppression shape healthcare and contribute to social and health inequities
how core assumptions, concepts, and values underpinning physical therapy and healthcare influence education, practice, delivery, policy, and research
Research in this theme is directed towards critical inquiry, has explicit anti-oppression aims oriented to transformative and emancipatory systemic changes to healthcare and society more broadly.
Aligned with the growing field of critical rehabilitation studies, our research is explicitly transdisciplinary, drawing on diverse knowledges, and critical scholarships (critical disability studies, critical race theory, anti-colonial studies, Indigenous studies, childhood studies, feminist studies, and posthumanism). The platform also promotes diverse methodologies, such as narrative approaches, discourse analysis, oral history and arts-informed research.
Programs of Research and Faculty
2022 Peer-Reviewed Publications: Social, Political, Ethical, Cultural Dimensions of Health & Disability
Abrams T, Thille P, Gibson BE. Disability, affect theory, and the politics of breathing: The case of muscular dystrophy. Subjectivity. 2021 Dec: 14: 201-217. DOI: https://doi.org/10.1057/s41286-021-00125-0.
Donia J, Shaw J. Ethics and Values in Design: A structured review and theoretical critique. Journal of Science & Engineering Ethics, 2021, 27(5): 1-32.
Fadyl J, Reid L, Cummins C, Gibson BE. Is the assumption of the autonomous individual holding us back in vocational rehabilitation? 2021 Dec 17 (electronic journal) Journal of Humanities in Rehabilitation. https://www.jhrehab.org/wp-content/uploads/2021/11/Fadyl_et_al_Is_the_Assumption_Fall_2021_PDF.pdf
Francis, G, Jansen-van Vuuren, J, Gaurav, N, Aldersey, H, Gabison, S, Davison, C. "Everybody thrown into the deep end at the same time": Reflections on family-school partnership in a time of COVID-19", Research in Social Sciences and Disability Journal.  Spring 2021
Gibson BE, Fadyl J, Terry G, Waterworth K, Mosleh D, Kayes NM. A posthuman decentring of person-centred care. Health Sociology Review. Special issue: Progressing critical posthuman perspectives in health sociology. 2021 Nov: 30 (3): 292-307. https://doi.org/10.1080/14461242.2021.1975555.
Gray J, Donnelly H, Gibson BE. Seriously foolish and foolishly serious: The art and practice of clowns in children's rehabilitation. Journal of Medical Humanities.  2021 Aug:42, 453-469 (Trainee publication). DOI: https://doi.org/10.1007/s10912-019-09570-0
Jóhannsdóttir A, Egilson S, Gibson BE. What's shame got to do with it: The importance of affect in critical disability studies. Disability and Society. 2021 Oct ; 36 (3): 342-357 https://doi.org/10.1080/09687599.2020.1751076.
Mosleh D, Gibson BE. Abnormal-Becoming-Normal: Conceptualizations of Childhood Disability in Children's Rehabilitation Textbooks. Scandinavian Journal of Disability Research.2022 April: 24(1), 122–135. DOI: https://doi.org/10.16993/sjdr.877.
Setchell J, Mosleh D, McAdam L, Thille P, Abrams T, McMillan H, Mistry B, Gibson BE. Enhancing human aspects of care with young people with muscular dystrophy: An evaluation of a participatory qualitative study with clinicians. PLOS ONE. 2022 Feb: 17(2): e0263956. https://doi.org/10.1371/journal.pone.0263956. 
Shaw J, Gagnon M, Carson A, Gastaldo D, Gladstone B, Webster F, Eakin J. Advancing the Impact of Critical Qualitative Research on Policy, Practice and Science. International Journal of Qualitative Methods, 2022, 21: 1-11.
Shaw J, Gutberg J, Wankah P, Kadu M, Steele Gray C, McKillop A, Baker GR, Breton M, Wodchis W. Shifting paradigms: Developmental milestones for integrated care. Social Science & Medicine, 301(2022): 1-11.
Vajravelu S, O'Brien KK, Moll S, Solomon P. Exploring the disability experiences of South Asian Women living with HIV in Southern Ontario, Canada. Disability and Rehabilitation. Published Online: February 16, 2022. Available at: https://doi.org/10.1080/09638288.2022.2037741.
Waterworth K, Gaffney M, Taylor N, Gibson BE. The Civil Rights of Disabled Children in Physiotherapy Practices. Disability and Rehabilitation. 2021 Aug (e-print).  https://doi.org/10.1080/09593985.2021.2011511.
Wright Stein S, Alexander R, Mann J, Schneider C, Zhang S, Gibson BE, Gabison S, Jachyra P, Mosleh D. 2021 Jul (eprint). Understanding disability in healthcare: exploring the perceptions of parents of young people with autism spectrum disorder. Disability and Rehabilitation. DOI: https://doi.org/10.1080/09638288.2021.1948114