In Memory of Diane Gasner MA, BSc, PT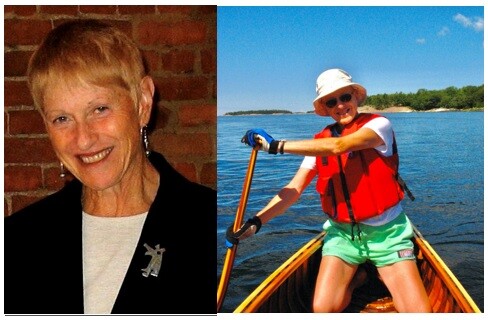 Diane Gasner passed away peacefully with Stan & Wayne at her side in the morning of April 29, 2022 at the age of 81. Diane was diagnosed with dementia in 2018 and suffered a series of seizures in the spring of 2021 as a result of a stroke she had in 2016.  Many thanks to the palliative care unit at Toronto Grace Hospital Hospice.
Diane was born on February 15, 1941 in Toronto, the daughter of Isidor and Patricia Desser. She met Stan in 1958 and they married in September 1963, the year she graduated with a Diploma in Physio & Occupational Therapy at the University of Toronto. Diane is survived by her husband Stan, son Wayne, Wayne's wife Jing and pre-deceased by son Danny. 
Diane started her career as a Physical Therapist in 1963 and worked in multiple hospital settings in Toronto until 1967.  
In 1975 Diane and family took on a 2-year CUSO (Canadian University Service Overseas) volunteer project in Cali Colombia South America which included 10 weeks in Quetzaltenango Guatemala to learn Spanish.   
On returning home from Colombia in 1978, Diane obtained a position at St. John's Rehabilitation hospital as a staff physiotherapist. She was promoted to Assistant Director Physical Medicine in 1986. Diane was not satisfied with just a diploma and continued her learning curve in 1986 completing her UofT BSc (Physical Therapist) while continuing as full-time staff. Diane left St. Johns in 1989 and held various Locum positions in private physiotherapy clinics until 1990.  
Diane joined the UofT Department of Physical Medicine in 1990 as a Senior Tutor in musculoskeletal physical therapy. By 1992 she had completed an M.A. in political science at York University. Diane thrived at UofT and quickly became a talented and beloved teacher which is demonstrated by her several achievement awards including the W.T. Atkins Award for Excellence in teaching. Diane retired from her position at UofT in 1998 but continued on as chair of the Communication Committee for the Alumni Association until 2021 when the increasing effects of her dementia caused her to step down. 
On retiring from UofT in 1998 Diane took on another volunteer assignment this time for CESO (Canadian Executive Service Organization) in Costa Rica to assist the Universidad Santa Paula in San Jose Costa Rica to lay the foundations for the development of a Master's program in physiotherapy. 
In order to keep herself in shape, Diane joined the Bruce Trail Conservancy in 1998 and became an avid hiker. She hiked the entire, over 950 km trail twice in the next few years and became an official hike leader.   
In 1988, our family tragically lost Danny to a car accident. With Diane's strength, our family kept going, keeping Danny's memory alive with a memorial at the Y Camp Pinecrest where he served as a camper and councillor. He specialized in canoe trips which gave Diane her love of canoeing.  
Diane lived life to the fullest. She was an avid canoeist and loved white water, loved skiing and prided herself as being a risk taker. She enjoyed travel and with Stan visited more than 40 countries on 4 continents. Diane and Stan took many annual canoe trips with close friends including the Nahanni river in the Yukon. Diane and two of her canoe buddies started the Paddle Gals which grew to six and went on annual 5 to 6-day canoe trips from Quebec to BC for twenty-five years, up to 2019 when Diane had to stop due to the worsening effects of her dementia. 
In 2007, Diane at the age of 66, took on Mt. Kilimanjaro and conquered its over 5,895 metre summit. 
Diane will be fondly remembered for her infectious laugh and killer smile and her willingness to help. Diane's smile will remain etched in our memories.
As per Diane's wishes no funeral is planned. Interment will be private at York Cemetery and Diane will be laid to rest alongside Danny. Memorial donations in her memory are requested to be to The Diane Gasner Graduate Scholarship Fund which provides funding for a student who has completed an MScPT at the University of Toronto's Department of Physical Therapy and is enrolled in the Rehabilitation Sciences Institute undertaking doctoral studies in musculoskeletal research at U of T. Tel: 416-978-0811, the Alzheimer Foundation of Toronto or the Bruce Trail Conservancy. 
A Celebration of Life to Diane for friends and family will be held in due course.  
Written by Stan Gasner