Apply to be a mentor in the Rehabilitation Sciences Sector Diversity Mentorship Program | Deadline December 6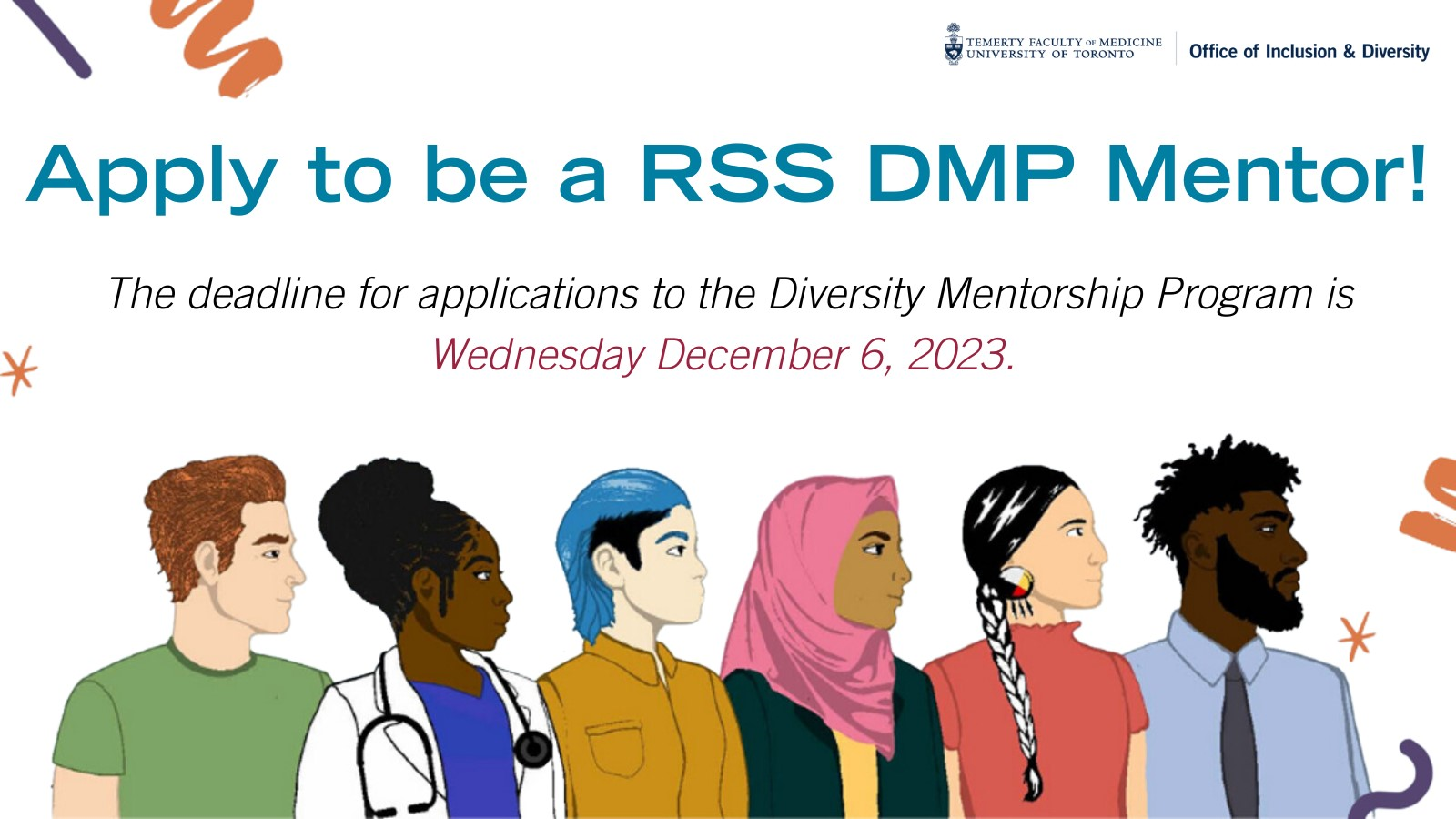 Dear colleagues,
Learners in MScOT, MScPT and MScSLP programs who come from social, cultural, and or economically diverse communities face increased barriers in their academic and career journeys. Many recommendations and calls to action to support these learners highlight how invaluable mentorship is in creating a welcoming, inclusive and safe community.
This pilot of the Rehabilitation Sciences Sectors (RSS) Diversity Mentorship Program (DMP) aims to address these needs for connection.
We are hoping to recruit as many RSS mentors as possible, so that every learner who applies to the DMP can be connected with a mentor to support them. We welcome applications from clinicians who come from social, cultural, and or economically diverse communities, as well as critical allies. Mentor volunteer roles can serve as part of teaching commitments and contribute to teaching dossiers when applying or reapplying for status appointment at the University of Toronto.
RSS DMP mentors hold the following roles and responsibilities:
To complete training checklist, including review of provided resources (max 1.5 hours)
To attend an orientation and training session to be held in January (max 3 hours)
To commit to mentoring from January to April 2024
To invest at least 1 hour of meeting time with mentee(s) each month.
To provide mentee(s) with guidance in identified areas, depending on the needs of the mentee
To respond to requests for progress and updates from the Office of Inclusion and Diversity in each term
To provide feedback for the purposes of evaluating the DMP program
Please fill out this application by Wednesday December 6 to join as a RSS DMP faculty mentor: https://survey.ca1.qualtrics.com/jfe/form/SV_bCIRXi0RgF31eU6
This pilot program will draw from the medical education Diversity Mentorship Program, which has provided mentorship to over 800 medical students at Temerty Medicine since 2018. We have heard from these mentees what a huge difference mentorship makes in their academic journey and sense of belonging.
Thank you for your consideration in sharing your experience, insights and time with the next generation of health care professionals.
With gratitude,
The RSS DMP Team
The RSS DMP is supported by the Rehabilitation Sciences Sector and the Office of Inclusion & Diversity,
*Data collection purpose
The Office of Inclusion & Diversity will collect data, including information about social identity and other personal information, from both mentors and mentees in order to administer the RSS DMP matching process. The data collected from mentors and mentees will only be accessed and used by the staff of the Office of Inclusion & Diversity and the Rehabilitation Sciences Sector who administer and coordinate the DMP.